Crosman's 362 100th Anniversary Edition. This is not a stock photo: it's the actual rifle being tested.
This report covers:
Still around
Worth it?
Owners
The airgun?
Front sight
Pump effort
The box
Disclosure
Summary
Today we have something different and I will report it differently than you expect. What we have is a Crosman 362. Nothing too special about that, right? I reviewed it for you in 2022. But this 362 is different than that one. This is the 100th Anniversary Edition. It is one of the rifles that Crosman has selected to celebrate a full century of being in the airgun business. And that's significant.
Still around
Crosman is still doing business as Crosman. The Crosman airgun company no longer sells seeds. They started out in 1838 as the Crosman Seed Company, and that company is still in business today. In 1923 they spawned the Crosman we are talking about that makes and sells airguns. In their hundred years this company has seen other airgun makers come and go. The Benjamin Air Rifle Company is gone. Yes, Crosman owns the Benjamin brand and makes and sells airguns under that name, but the company that was Benjamin no longer exists. Sheridan is also gone — same as Benjamin.
Daisy was Crosman's oldest competitor and had existed even longer than Crosman, though they didn't go quite as far back as they claim. They bought Markham and chose to backdate their founding to the start of that company in 1886, when it probably was more like 1888. Daisy still exists as a company, but under the umbrella of Gamo. So their future is in the hands of others, as was Benjamin's and Sheridan's at one time.
What I'm saying is Crosman has a right to be proud of their history. Proud enough to embed a brass plaque in the buttstock proclaiming the rifle's heritage. And yes, it is pressed into the wood, so the plaque is lower than the wood around it.
Worth it?
Is the Crosman 362, 100-Year Anniversary Edition worth it? This is where I have to say something. The moment the 100th Anniversary Edition became available all the "engineers" in Airgunland got their phone cameras out and heated up the chat forums with this and that disparaging word about what Crosman did and what they "…should have done."
The rifle arrived at my house yesterday and I opened the box in the presence of my neighbor, Denny. His first words? "Wow. What a looker!" Or very similar words. Yes, he really said that. If I'm lyin' I'm dyin'.
Now, Denny is currently building a walnut bookshelf for his daughter and son-in-law. Yes, walnut! Just the wood for that project cost $500. So Denny knows wood and he knows manufacturing. And yet he said "Wow!" So Wow it is.
He even said this rifle needs to go on my wall, which is ultra-high praise because he has to make the walnut board it goes on. I am already scouting a wall. I swear I never intended turning my home into a man cave! But I guess it's time to think about parking my Harley in the living room. No?
"But BB, this rifle costs four hundred dollars! I can get a (insert name of favorite low-cost PCP here) for that!"
Fine. Then do.
Owners
What about the people who bought one and expected something different? Guys — this is a 362. No amount of pixie dust is going to turn it into something else. It's a 362 that has a Crosman 362 barrel — not a Lothar Walther barrel. It has a Crosman stock, not a stock made by Minelli or Steve Corcoran — either of which would cost more than this entire rifle. It has a Williams peep sight. Well that's nice. Back in 1923 Crosman gave you something much cruder for a peep.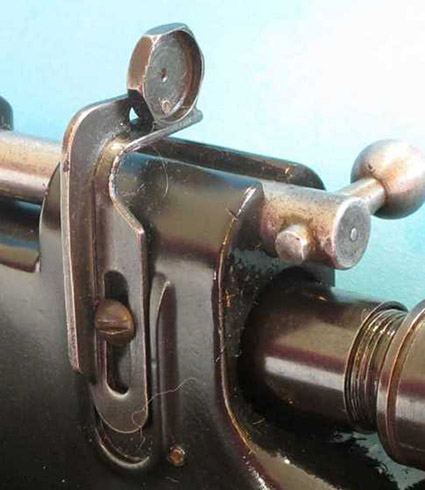 This is what Crosman gave you for a peep sight in 1923.
We praise them for their innovation in 1923 but somehow they gotta do better a century later? Well, they did. A Williams peep comes with this rifle.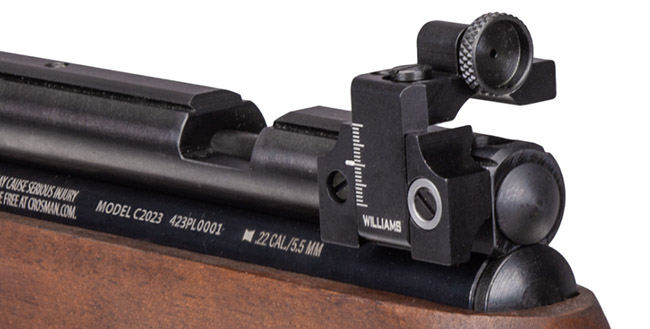 A Williams peep sight comes on every Anniversary 362.
Oh, and my apologies to readers Vana2 and pacoinohio for daring to mention the past. Stick to the 386 airguns from 35 manufacturers that are for sale, BB!
But the Crosman 362, 100-Year Anniversary Edition rifle is available right now. 
No matter. Just don't mention the past! I did but I think I got away with it.
Well — let's see. Have I insulted or angered everyone yet? I don't want to leave anyone out. Please tell me in the comments if I have overlooked you and I'll be sure to slight you in some cheap and yet meaningful way.
The airgun?
That's right — this is a blog about airguns. So, what do we have here? The rifle is a .22-caliber multi-pump pneumatic that the manual says operates on two to eight pumps. It is rated to 850 f.p.s. with alloy pellets. It is single shot and has a rifled barrel. We will test both velocity and accuracy.
The stock is genuine Turkish walnut finished matte. The finish resembles Tung oil more than a little. I find several manufacturing scratches in the wood on the pump arm and on the butt. The butt pad is thick black rubber that's grippy.
The pull is 13-inches on the nose. The overall length of the rifle is 35.5-inches and the barrel is about 21-inches long. The test rifle weighs 5 pounds 7.3 ounces, but remember that wood, being a natural, product, will cause small weight fluctuations.
The breech is steel, which is an upgrade on the standard 362. It is grooved for an 11mm scope mount but you'll have to hold a gun to my head to get me to mount one. I say that because this rifle comes with an adjustable Williams peep sight in the rear.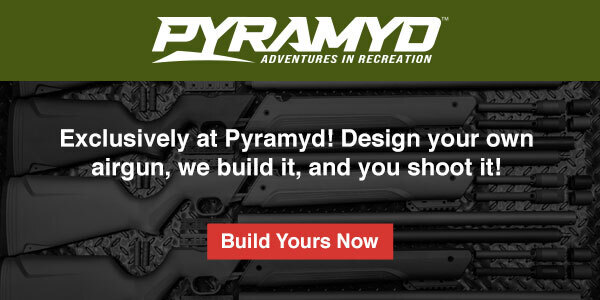 Front sight
I mentioned the rear sight is a Williams peep. The front is fiberoptic — grrrr! BB doesn't like fiberoptics! But that's what is there so he will live with it.
Pump effort
The 362 is a conventional multi-pump. By that I mean that after the Dragonfly Mark 2, whose pump effort never increases, and the Barra 1866 Cowboy lever action whose pump effort was never hard to begin with, the 362 is from the old school. So the pump effort will increase with each pump and I will test that for you.
The box
Crosman put some effort and money into the box the rifle comes in. You may not keep all the boxes your airguns come in — I sure don't. But in my opinion this one is worthy of retention.


Even the box it comes in is attractive.
Disclosure
This rifle was given to me by Crosman. We have done a lot of business over the years and they are honoring me with this gift. I tell you that so you know where I stand in all of this. I will be as honest as possible in my testing, but know that this rifle was a gift.
Summary
We have an air rifle to test. It's a Crosman 362 that we have tested within the past year.  I don't expect performance to be dramatically different with this one; as mentioned — the largest differences are cosmetic. On the other hand, with the demise of the Sheridan Blue Streak and the release of the Benjamin Variable pump whose stock makes using the open sights challenging, maybe this 362 does have an important niche to fill.