That's not the Dragonfly Mark 2, folks. It's the Dragonfly's inspiration — the Benjamin Pump-Assist 392.
This report covers:
Dragonfly Mark 2
Meopta MeoSport RD
The Diana Oktoberfest
The Air Venturi Avenger
Others
Summary
While searching for a great weekend report I went back to the first post I ever made. This blog started on March 2 of 2005, and next Thursday it will be 18 years old! In a few more years it will be old enough to vote, except in Chicago, where the slogan is vote early and vote often!
Dragonfly Mark 2
As I read the comments to that post I discovered something. It seems that people read the blog and they listen. In the comments I directed a reader to a 5-part series that was made in 2008 and titled, The Pump-Assist Benjamin 392. That was written back in 2008 and I revisited the rifle in December of 2016. And I thought that would be the end of it. But in 2022 I started testing the .22-caliber Dragonfly Mark 2. As you all know so well, I think that air rifle is one of the best I have ever seen, and it came about partly because of this blog!

The Benjamin pump-assist 392 is the father of the Seneca Dragonfly Mark 2.
The pump-assist Benjamin cost about $100 more than the basic rifle, so people stayed away from it in droves. Only a few were made and each one was hand built. Then its inventor, Robert Moss, faded into obscurity (though I'm sure he didn't think so!) until Val Gamerman sought him out to recreate the idea. It took four years to bring it to market, but the Dragonfly was made from the ground up — not by modifying an existing design. As a result, the Dragonfly Mark 2 is $20 less expensive than the Benjamin Variable Pump (the rifle the 392 evolved into). 
That's what happens when people listen.
Meopta MeoSport RD
I have reported on several Meopta scopes in the past, but the MeoSport R 3-15X50 was special. Where most Meopta scopes are priced in the lower end of the premium scope category, this one came out in 2022 at a retail price of $450. Finally airgunners could afford a premium scope that sold at a price under the premium level. I tested it for you in 2022 in a two-part report and I still use it on various tests of accurate airguns.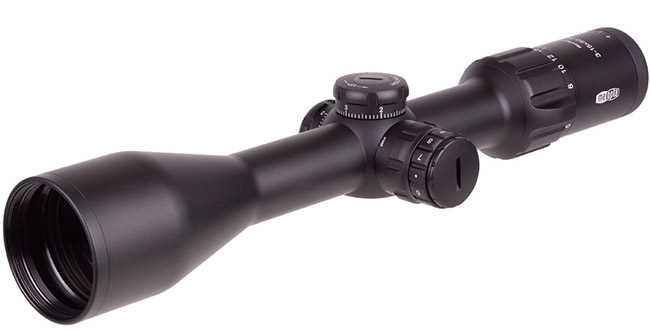 The MeoSport 3-15X50 brought premium scopes down to affordable levels.
But that's not all. Meopta realized that airguns are a market sector they need to cultivate, and there is now an even less expensive Optika5 3-15X44 second focal plane scope. It retails for $400! That is listening, folks!
The Diana Oktoberfest
I have talked about The Diana model 30 for years. But several years ago a marketing manager from Diana told me there would soon be an affordable bolt action ball shooter for the rest of us. And the Oktoberfest is it! Diana listened, they soldiered on and created the Oktoberfest rifle for airgunners who care about accuracy.
I'm not done testing that air rifle. I just wish I could find a source for some actual 4.4 mm lead balls — not those labeled 4.4 mm but those that actually measure 4.4 mm. HEY — is anybody listening?
The Air Venturi Avenger
Sometimes it's the manufacturers that listen. And sometimes they have people working for them who actually know what is needed. Tyler Patner is such a person. When Air Venturi asked me in 2020 to test a new precharged pneumatic (PCP) they were offering I said sure. It was made in China, so I wondered how good it could be.
Well, three years later I'll tell you how good it is — stupendous. In fact, my personal Air Venturi Avenger, called BB's Goldie, is so accurate that it challenges my Air Arms S510XS! That's a $350 David (base rifle price) taking on an $1,800 Goliath!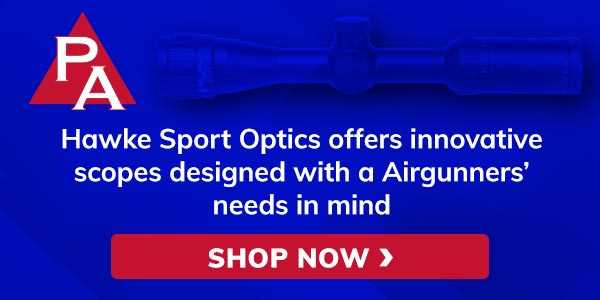 Others
Sure there have been others. When Daystate and FX told the world that accurate repeating PCPs with great triggers had to cost thousands, Crosman gave us the Benjamin Marauder. It's a model that people still refer to, as in — just as good as a Marauder.


Benjamin Marauder is a timeless classic.
Bug Buster
Even before this blog began people were listening. In 1998 (?) Leapers founder David Ding listened to me at the SHOT Show and a year later the Bug Buster scope line was born! It's two decades later and still no other scope in the world focuses as close as 3 yards. There will even be a premium Integrix Bug Buster that will cost about half what the other Integrix scopes cost — as a gift to faithful airgunners for their support of UTG over the years.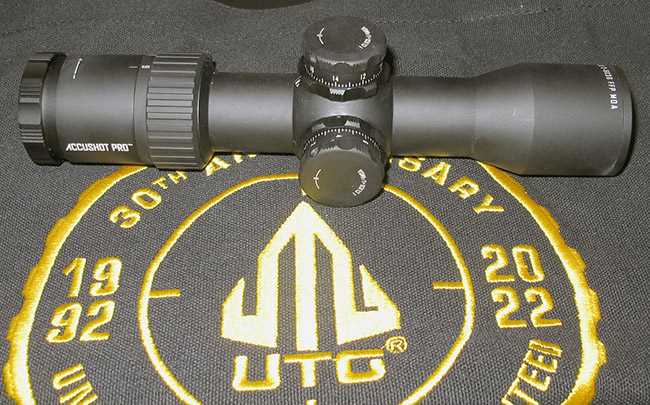 There it is, boys — the Integrix Bug Buster with an etched glass reticle!
Summary
Well, listeners — I have left the field wide open for you to talk all weekend. Go to it!